About Us
​Ken's Kitchen is a Chinese takeaway in Poole. Why don't you try our Beef with Kung Po Sauce or Chicken Omelette?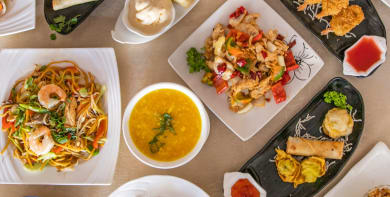 Reviews
105 reviews
Jay
"Forgot my sweet and sour sauce unfortunately. Other than that it was great as always! Only Chinese I'll order from"
03/06/2020
Tracey
"Amazing food, delivered hot,good value for money and delivery driver always happy and cheerful."
06/03/2020
Jade
"Ken's Kitchen is by far the best Chinese take away in the BH postcode area! ⭐ amazing food, great value for money and great service!"
29/02/2020
Menu
Crab Meat Stick & Sweetcorn Soup
£3.20
Roast Pork with Mushrooms
£5.20
Roast Pork with Cashew Nuts
£5.20
Roast Pork with Pineapple
£5.20
Roast Pork Szechuan Style
Hot
£5.20
Roast Pork with Green Pepper in Black Bean Sauce
£5.20
Roast Pork with Mixed Vegetables
£5.20
Starters Spring Rolls (2)
Starters Vegetable Mini Spring Rolls (6)
Starters Crispy Seaweed (Small Portion)
Main Sweet & Sour Chicken (10)
Main Sweet & Sour Pork Balls (10)
Main Deep Fried Chicken In Lemon Sauce
Main Sweet & Sour Chicken Hong Kong Style
Chicken Chow Mein (Noodles)
Chicken Green Pepper in Black Bean Sauce
Chicken Ginger & Spring Onion
Beef Green Pepper in Black Bean Sauce
Beef Ginger & Spring Onion
Roast Pork Chow Mein (Noodles)
Roast Pork Green Pepper in Black Bean Sauce
Roast Pork Ginger & Spring Onion
Fried Rice Chicken Fried Rice
Fried Rice Shrimp Fried Rice
Fried Rice Yeung Chow Fried Rice
Fried Rice Beef Fried Rice
Fried Rice Egg Fried Rice
Spare Ribs with Capital Sauce
£5.40
BBQ Spare Ribs with Sauce
£5.40
Salt & Pepper Spare Ribs
Hot
£5.40
Deep Fried Shredded Smoked Chicken
Hot
£5.40
Satay Chicken on Skewers (6)
£5.40
Mini Vegetables Spring Rolls (12)
£3.00
Gourmet Mixed Hors d'Oeuvres
For 2 people
Crispy seaweed, sesame prawn toast, spring rolls & spare ribs
£8.30
Salt & Pepper King Prawn
Hot
£6.00
Bamboo Shoots & Water Chestnuts
£3.80
Mixed Vegetables in Black Bean Sauce
£4.40
Four Season Mixed Vegetables
£4.40
Roast Duck with Mixed Meat & Vegetables
£6.00
Roast Duck with Mushrooms
£6.00
Roast Duck with Plum Sauce
£6.00
Roast Duck with Pineapple
£6.00
Roast Duck with Green Pepper in Black Bean Sauce
£6.00
Roast Duck with Oyster Sauce
£6.00
Roast Duck with Ginger & Spring Onion
£6.00
Roast Duck Szechuan Style
Hot
£6.00
Chicken Szechuan Style
Hot
£5.20
Chicken with Kung Po Sauce
Hot
£5.40
Chicken with Capital Sauce
£5.20
Chicken with Green Pepper in Black Bean Sauce
£5.20
Chicken with Baby Sweetcorn
£5.20
Chicken with Ginger & Spring Onion
£5.20
Chicken with Oyster Sauce
£5.20
Roast Chicken Chinese Style
£5.20
Deep Fried Chicken in Plum Sauce
£5.40
Deep Fried Chicken in Lemon Sauce
£5.40
Chicken with Mixed Vegetables
£5.20
Chicken with Cashew Nuts in Yellow Bean Sauce
£5.40
Beef with Green Pepper in Black Bean Sauce
£5.20
Beef with Ginger & Spring Onion
£5.20
Beef with Kung Po Sauce
Hot
£5.20
Beef with Black Pepper Sauce
£5.20
Deep Fried Sliced Beef with Sweet & Sour Sauce
£5.20
Deep Fried Shredded Beef with a Touch of Chilli
£5.20
Beef with Mixed Vegetables
£5.20
Chips In Chinese Gravy Sauce
£2.70
Chips & Egg Fried Rice In Gravy Sauce
£3.60
Chips & Egg Fried Rice In Curry Sauce
£3.60
Chips In Sweet & Sour Sauce
£2.70
Chips & Egg Fried Rice In Sweet & Sour Sauce
£3.60
House Special Chow Mein
With chicken roast pork & egg on top
£5.80
Ken's Special Chow Mein
Mixed Vegetable with chicken roast pork & king prawn cooked in oyster sauce on a bed of noodles
£6.40
Mixed Vegetable Chow Mein
£4.30
King Prawn Szechuan Style
Hot
£6.00
King Prawn with Cashew Nuts
£5.80
King Prawn with Satay Sauce
£6.00
King Prawn with Kung Po Sauce
Hot
£6.20
King Prawn with Capital Sauce
£6.00
King Prawn with Green Pepper in Black Bean Sauce
£6.00
King Prawn with Chilli
Hot
£6.00
King Prawn with Baby Sweetcorn
£6.00
King Prawn with Ginger & Spring Onion
£6.00
King Prawn with Oyster Sauce
£6.00
King Prawn with Mushrooms
£6.00
King Prawn with Pineapple
£6.00
King Prawn with Cashew Nuts in Yellow Bean Sauce
£6.20
King Prawn with Mixed Vegetables
£6.00
Mixed Vegetables
(Vegetarian)
£5.30
House Special Fried Rice
With chicken roast pork & egg on top
£5.80
Ken's Special Fried Rice
Mixed vegetable with chicken, roast pork & king prawn cooked in oyster sauce on a bed of fried rice
£6.40
Singapore Fried Rice
(Hot)
£5.30
Roast Pork & Roast Duck Fried Rice
Roast pork & roast duck on top
£6.20
Sweet & Sour King Prawn Balls (8)
£5.80
Sweet & Sour Special Balls
Chicken, pork & king prawn balls - 4 each
£6.00
Sweet & Sour Chicken Balls (10)
£4.50
Sweet & Sour Pork Balls (10)
£4.50
Sweet & Sour King Prawn Hong Kong Style
£6.00
Sweet & Sour Chicken Hong Kong Style
£5.00
For One Person
Spring roll
Sweet & sour pork balls (3)
Chicken with green pepper in black bean sauce
Egg fried rice
£8.00
For One Persons
Prawn toast (1)
King prawn with mixed vegetables
Egg fried rice
£9.00
For Two Persons
Prawn crackers
Spring rolls
Deep fried chicken in lemon sauce 
Beef with ginger & spring onion 
Mushroom chop suey
Egg fried rice
£17.00
For Three Persons
Prawn crackers
Barbecued spare ribs
Sweet & sour chicken balls (12)
King prawn with cashew nuts
Beef with green pepper in black bean sauce 
Mixed vegetables
One and a half yeung chow fried rice
£28.00
For Four Persons
Prawn crackers
Mini spring rolls (12)
Salt & pepper spare ribs
Sweet & sour special balls (12)
King prawn with ginger & spring onion
Beef with oyster sauce
Roast pork chinese style
Chicken chow mein
Yeung chow fried rice
£36.00
Wednesday & Thursday Special Menu
Starters:
Spring rolls (2)
Vegetable mini spring rolls (6)
Crispy seaweed (Small portion)
Prawn crackers
Main:
Sweet & sour chicken (10)
Sweet & sour pork balls (10)
BBQ spare ribs
Deep fried chicken in lemon sauce
Sweet & sour chicken Hong Kong style
Sesame prawn toast
Chicken, beef, roast pork (choose from sauces below)
Curry, chop suey, chow mein (noodles), egg fu yung, green pepper in black bean sauce, ginger & spring onion, chilli sauce, oyster sauce, mushrooms & pineapple
Fried rice:
Chicken fried rice
Shrimp fried rice
Yeung chow fried rice
Beef fried rice
Egg fried rice
£13.00
Contact Us
Find Us
95 Melbury Avenue, Poole, BH124HG
We deliver to
BH10, BH11, BH12, BH13, BH14, BH17, BH4